Those thinking 2018. MWC lacked sparkles, obviously didn't see dazzling 3D Hypervsn(TM).
AI
All mobile processor manufacturers have added, next to graphical processors, Artificial intelligence (Neural networks) engine to their ARM processors.
ARM added Mali
MediaTek (in P60) added  APU
Qualcomm added Adreno
There was no information on Huawei, and Apple AI processors – but they doubtlessly exist.
Israeli stand
An amazing inference chip, working entirely on optical principle was proposed by CogniFiber. (Each pixel has its own fiber of, say 30um, out of say, 600x400px. Thresholds of neural network are probably implemented as amplifiers for undersea fibers – no slowing down of light. Claim is: about 1000x less power and a few orders of magnitude speed up.)
Israeli syte.ai has a mobile app which can take camera photo to identify clothes (brand) on the person one envies and finds the price and where to buy it.
Another company has a 'self-driving' system for the passenger – one gets all the information about shops, restaurants, hotels, etc… on the camera photo, while being a co-driver.
SDR/URLLC
Fraunhofer institute demonstrated shortened TTI implemented in USRP.
CellXica from UK developed their own SDR platform and base station. (Thanx Prashant for tapping my shoulder.)
Other
SoftBank robotics brought childlike robots Nao and Pepper which were popular with women.
Memory
Intel True VR(TM) needs 2TB per hour (6 pairs of camera capture of 360degrees.)
Cars
Audi A8 has about 50x ARM processors.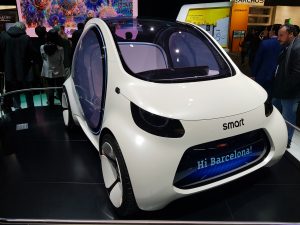 (Ridiculous) concept car on Mercedes stand.
Graphene
Graphene corner was in Hall 8 just as the last year, and the monetisation remains the problem. Among other applications:
Transparent graphene film over window's surface. (Maybe in future we will have each window as a TV?)
All kind of sensors
Thermal conductor (better than copper)
Braincom-project.eu has increased the number of brain implanted electrodes from few hundred, to, using graphene, few tens of thousands of electrodes.
Russian stand
On quite modest Russian stand one could have seen Sailfish OS – alternative to iOS, Android and Windows – used by government. (It's a Linux flavour.)